In an effort to spur a global campaign of giving, individuals and organizations come together in unity and showing kindness and generosity in all its forms by giving their voice, time, money, goods, and advocacy to support communities and causes on GivingTuesday.
This year, Tuesday, December 1, marks the global day of giving and we want you to take part in this worldwide effort! There are plenty of ways to show or voice your support in the form of giving. Tune in GivingTuesday and make an impact in NE Spokane!
---
Donate today and make an impact in Northeast Spokane!
Our mission is to strive to improve the quality of life for residents in northeast Spokane with an emphasis on social, health, economic, education, and recreation needs. Within our mission, the Community Center aims to provide a sustainable community environment and support neighborhoods that foster community resiliency and we can do this with the help and support of our donors, community partners, and agency partners!
Committed to this mission, the Northeast Community Center works to:
Promote a community center atmosphere that honors human dignity through respect, compassion, and justice.
Assess and respond to the quality of life issues.
Empower all individuals through support, advocacy, and services.
Facilitate and support the work of services providers who are meeting identified needs in the area
Promote and coordinate collaboration among community members
Provide responsible and effective management of the Center and its resources.
Every dollar counts! That is why we encourage you to contribute in any way, even if it's a small amount or through volunteering! Together, we can all make an impact in our community and a difference in someone's life.
---
---
Ways to Give:
Contributions – Monetary & In-kind
Holiday Show & Auction Sponsorship
Volunteering
---
Honor Walkway: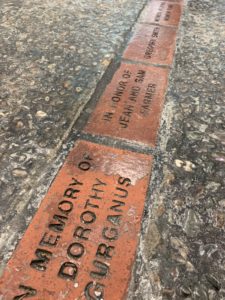 Northeast Community Center would like to offer contributors the opportunity to have their name or someone who has gone above and beyond to support the Northeast Community Center and the agencies that have served the community recognized in the Honor Walkway.
We have established an Honor Walkway in the main hallway and reception area and recently installed bricks in the lobby area to honor friends and supporters of NECC.
For more information, please contact the Community Center Information Office at (509) 487-1603