Donate today and make an impact in Northeast Spokane!
Our mission is to strive to improve the quality of life for residents in northeast Spokane with an emphasis on social, health, economic, education, and recreation needs. Within our mission, the Community Center aims to provide a sustainable community environment and support neighborhoods that foster community resiliency and we can do this with the help and support of our donors, community partners, and agency partners!
Committed to this mission, the Northeast Community Center works to:
Promote a community center atmosphere that honors human dignity through respect, compassion, and justice.
Assess and respond to the quality of life issues.
Empower all individuals through support, advocacy, and services.
Facilitate and support the work of services providers who are meeting identified needs in the area
Promote and coordinate collaboration among community members
Provide responsible and effective management of the Center and its resources.
Every dollar counts! That is why we encourage you to contribute in any way, even if it's a small amount or through volunteering! Together, we can all make an impact in our community and a difference in someone's life.
---
North Spokane Grocery Outlet Kicks Off Tenth Annual 'Independence from Hunger® Food Drive" Campaign
Grocery Outlet Partners With Northeast Community Center and Community Members to Tackle Food Insecurity in northeast Spokane!
Grocery Outlet Bargain Market, the extreme-value grocery retailer, launched its Tenth Annual Independence from Hunger® Food Drive, to combat food insecurity and support families in vulnerable and disadvantaged communities throughout America. In the month-long campaign, from June 24 to July 31, 2020, North Spokane Grocery Outlet is teaming up with Northeast Community Center to collect food and cash donations in-store and online.
Families and children in vulnerable and disadvantaged communities throughout the U.S. are at continued risk of experiencing food insecurity, lacking the basic nutrients necessary for the development of an active, healthy life. In 2020, many families have lost premature access to school supported food programs, creating an increased risk for food insecurity. In fact, the most recent USDA analysis of Food Insecurity in America data reports over 11 million households suffer limited access to food sources including 1 in 7 children (USDA, Household Food Security in the United States in 2018, Feeding America Map the Meal Gap 2020)
The USDA reports that one in every nine Americans experiences food insecurity, and 38.1 million Americans were reported as living at or below the poverty level in 2018 (U.S. Census Bureau, Income, Poverty, and Health Insurance Coverage in the U.S. – Data collected in 2017, updated September 2019).
Customers can make a difference by visiting North Spokane Grocery Outlet and participating in one of these easy steps:
Give $5, get $5. Donate $5 or more in a single transaction in-store or online, and you will receive a coupon for $5 off a future purchase of $25 or more.
Pick up a pre-made bag that is filled with an assortment of groceries selected by the local food agency and then place it in a collection bin at the front of the store.
"With school closures resulting in record lows for food bank inventories across the country, we are once again reaching out to our loyal customers, employees, and partners to join us and help our neighbors in need," said Eric Lindberg, CEO at Grocery Outlet, Inc. "Our goal is to continue providing access to high-quality and nutritious food for our local communities in need."
The North Spokane Grocery Outlet store is independently owned and operated by Lisa Weaver, who is committed to giving back to the local community. This year, the national campaign will span over 350 locations and build on Grocery Outlet's past Independence from Hunger efforts that have collected more than 7 million dollars to date, across America.
Customers can help make a difference by visiting their local Grocery Outlet and participating in the Independence from Hunger food drive.
For more information, visit GroceryOutlet.com/Donate.
---
Ways to Give:
Contributions – Monetary & In-kind
Holiday Show & Auction Sponsorship
Volunteering
---
Honor Walkway: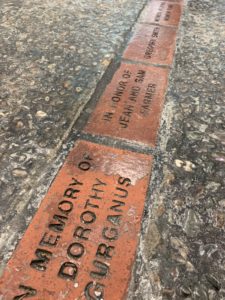 Northeast Community Center would like to offer contributors the opportunity to have their name or someone who has gone above and beyond to support the Northeast Community Center and the agencies that have served the community recognized in the Honor Walkway.
We have established an Honor Walkway in the main hallway and reception area and recently installed bricks in the lobby area to honor friends and supporters of NECC.
For more information, please contact the Community Center Information Office at (509) 487-1603